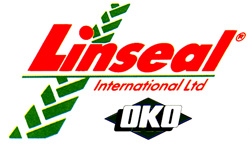 The Only Fiber Free Tire Sealant
What is Linseal?
Linseal is the revolutionary liquid puncture preventative. Linseal is designed to remain fluid inside a pneumatic tire or inner tube. Linseal will seal a hole in the tread area of a tire or instantaneously when applied before a puncture occurs.
How does Linseal work?
Linseal is spread over the inside of the tire tread area as the wheel revolves, ready to seal puncture after puncture. When the puncture occurs. escaping air pressure forces Linseal into the hole immediately forming a strong airtight seal.
Linseal is available in the USA/Canadian market in the following containers:


Linseal 1/2 Liter (16 oz.)

Linseal 1 Liter (32 oz.)

Linseal 25 Liter Drum (6.6 US Gallon)

Applicator Pump for 25 Liter Drum

Linseal 220 Liter Drum (58 US Gallon)
Linseal Part Numbers and Case Pack

| | | |
| --- | --- | --- |
| Part Number | Description | Case Pack |
| 9004 | Linseal 1/2 Liter | 24/Case |
| 9000 | Linseal 1 Liter | 12/ Case |
| 9001 | Linseal 25 Liter Drum | (1 Pack) |
| 9002 | Linseal Pump | (1 Pack) |
| 9003 | Linseal 220 Liter Drum | (1 Pack) |
With the bottle:
Position tire valve at 8 o'clock
Remove tire valve core with valve tool (provided in cap of bottle) and deflate tire
Fit plastic spout over valve and press Linseal into tire to recommended amount
Replace valve core in tire inflate to normal level
With the drum / pump:
Position tire valve at 8 o'clock
Remove tire valve core with valve tool and deflate tire
Place pump onto valve of tire and pump sealant into tire (5 strokes will dispense one liter or 32 oz.)
Replace valve core in tire inflate to normal level
Linseal Tire Sealant Benefits:
Virtually eliminates downtime caused by flat tires
Saves money on expensive call-out charges
Operators keep working, do not notice flat tires
Dealers have profit making potential to sell sealant as part of servicing machines
Not harmful to the environment